How Can We Help?
We are a full-service, locally owned and operated heating oil company. In addition to providing thousands of homeowners in King and Snohomish counties with clean-burning, renewable Bioheat® Fuel, we supply diesel fuel and biodiesel to commercial generator users in greater Seattle.
Fuel Delivery
Sound Oil offers automatic delivery of your heating fuel so that you can focus on the more important things in life. Our automatic delivery customers have full access to our generous payment plans which are designed to work with any budget.  Thousands of Sound Oil customers throughout the Puget Sound area rely on automatic delivery to make sure they never run out of fuel and always stay warm.
It's quite simple. Just one call to us and you're set year-round. No more checking the fuel levels. No more remembering to call for delivery before you go on vacation or  guessing how long it's been since your last delivery. We take care of it for you.
We set up a schedule based on your tank size, past consumption, and weather analysis.
Most of Sound Oil's residential and commercial customers are on our automatic delivery service. Call or use the contact form to start service and begin relaxing!
To learn about our clean, renewable Bioheat® Fuel, click here.
Heating Installation
In the last decade Sound Oil has installed more heating oil equipment than any other company in the greater Seattle area. Our highly skilled and certified heating oil technicians are well known for their quality installations. Our job doesn't end there. Our mission is to make sure you remain satisfied with your new heating or cooling equipment for years to come.
We offer heating and cooling systems from only the highest quality manufacturers. We recommend the ThermoPride and Armstrong brands which will offer you many years of reliable performance.
Maintenance Program
Sound Oil offers an annual Furnace Maintenance Program to our oil customers. This program includes an annual complete service and inspection of your heating equipment, plus coverage of all parts and labor year round. For a low annual fee you can be confident that your system is always working in peak operating condition.
Generous Payment Plans
40% Plan (Our Most Popular)
Pay 40% of the balance each month interest free, allowing you to spread out your payments over several months. When your balance drops down to $105 or less, the whole balance is due.
Payments are due on the 15th of each month.
Monthly Plan
Pay 12 monthly payments with no finance charge. Monthly payments are subject to change due to change in price or consumption. Upon approval, other purchases may be added to the level payment plan.
Payments are due on the 15th of each month.
30-Day Plan
No interest is charged if full payment is made by the 15th of the month following the statement billing period.
For furnace installations we have additional payment options designed to accommodate any budget. Call for details.
We accept most major credit cards including Visa MasterCard and American Express. We gladly take payments over the phone, or use our easy online payment option!
If you need assistance paying your heating bill, go to the home energy assistance page.
Tank Protection
Heating oil storage tank insurance is important. Sound Oil offers a low-cost, comprehensive Tank Replacement Agreement that covers the replacement of your tank if needed. The installation of a new tank can cost up to $3,000 without coverage, so this agreement is a wise investment. Most of our customers carry this coverage.
In addition to our Tank Replacement Agreement, some heating oil customers may qualify for State of Washington Pollution Liability Insurance (PLIA). To find out more and to see if you qualify, please visit the PLIA website.
Commercial Generators
To learn about our commercial generator services, click here.
Our certified service technicians average 20 years of experience in the industry.
Bioheat helps extend the life of heating equipment and reduces oil consumption.
Would you rather be served by a local family business or large utility?
We average 4.6 out of 5 stars based on 170 online consumer reviews.
Do you know the true cost of converting your home to electric heat?
Did you know we are more environmentally friendly than natural gas?
The Highest Standard of Service
Thanks to Sound Oil for helping a long-standing elderly Customer with her oil bill. It's good to know there are caring companies like this in Seattle.
Sound Oil has been a pleasure to work with, friendly and professional. If you're doing business with them, you are in good hands!
We are very impressed by their customer service and will be loyal customers for as long as we live in the neighborhood.
We love heating our house with Bioheat! Thank you for making the switch.
Sound Oil came out same day to restart our oil furnace at no charge when it wasn't working correctly. Our experience with this company has surpassed others… I'm expecting we'll have a long and happy relationship together.
The staff and technicians at Sound Oil have given us excellent service since 2016.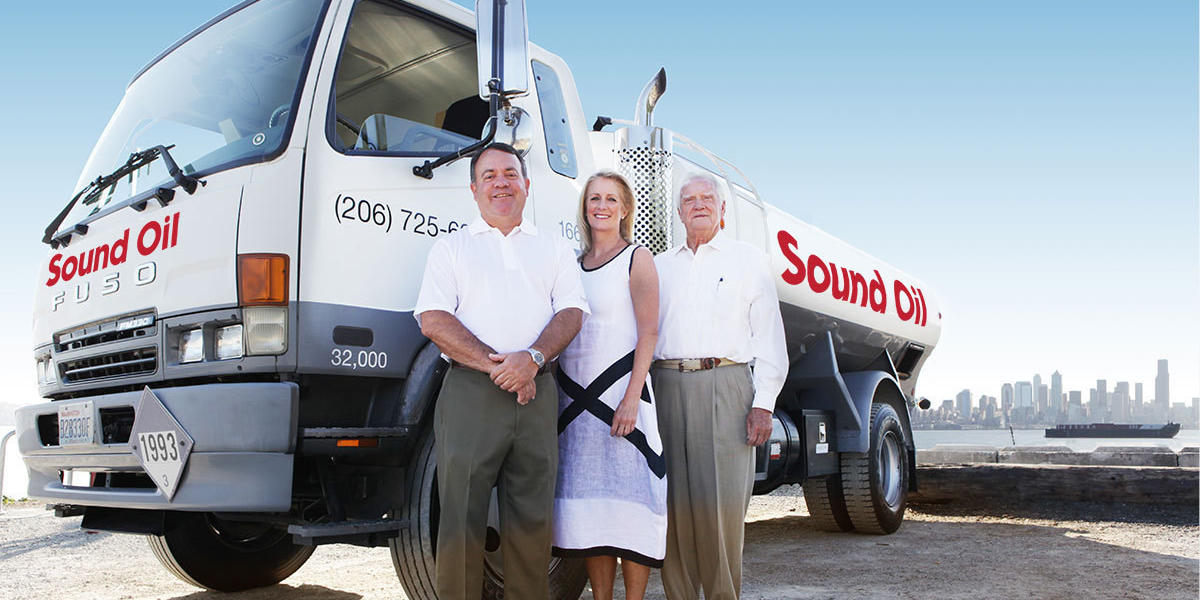 Jim Franck, Marilyn Powell Jensen, and co-founder Jack Powell
We would welcome the opportunity to serve you.
FURNACE SERVICE
206.725.6300
6346 Rainier Avenue South
Seattle, WA 98118
Saturday: 8

:00am – 2:00pm